This release focuses on issue fixes and improving usability for Provider Users.
Provider Users
Issue Fixed:

Issue Fixed: Field Service Managers Portal Users Experiencing Error Messages
Users Experiencing Error Messages
Previously, some Field Representative e-Dashboard of Field Service Managers Portal users received error messages when clicking on the SHOW ESTIMATE tab or accessing the Estimate's PDF file from the Viewing Case page.
This issue has been resolved, and all FReD(Field Service Managers) Portal users can now access the SHOW ESTIMATE section and open the Estimate's PDF as expected, giving them access to essential estimate details.
Improved Decoded VIN Feature Functionality
With this release, we made it easier for Service Providers and Fleet Users to add non-standard assets when using the Decoded VIN feature. Previously, some users encountered error messages that read "Asset not supported - make, model or engine could not be found" when using this feature for some types of assets such as utility trailers, other power, and non-power units, etc.
Now when a user adds assets like these using the Decoded VIN feature, values will populate as usable data in the relevant fields of the Asset Details section of the Add Asset page. Users can work with the asset record as expected.
NOTE: This update does not impact VIN length requirements, only the sources our system uses to decode assets.
See also: Add Customer Asset
View Pending Service Requests for Mobile Check-In
With this release, Service Providers can see when there are pending Service Requests on an asset prior to opening a new case for it when using the Mobile Check-In tool. This allows Service Providers to make informed decisions at case creation.
Service Providers will now find a new PENDING SERVICE REQUESTS tab on their Asset Search results screen in the Mobile Check-In tool. When tapped, the PENDING SERVICE REQUESTS tab will generate a list of all pending service requests for that asset. Tap on GO TO SERVICE REQUEST for a detailed view of each of the requests listed. Service Providers can accept or decline the pending service requests to create a case or choose to proceed differently as needed.
Added Customer Notes Section for Mobile Check-In
With this release, we improved the user experience for Mobile Check-In users at case creation by putting critical customer-related information at their fingertips. A new Notes section under the Asset Details screen's Customer tab gives users immediate access to all relevant communications, so they get important context easily.
To use this feature, users can search for an asset as they normally would, tap SELECT on an asset they want to know more about, then tap on the new NOTES section to view any available information.
See also: Create a Case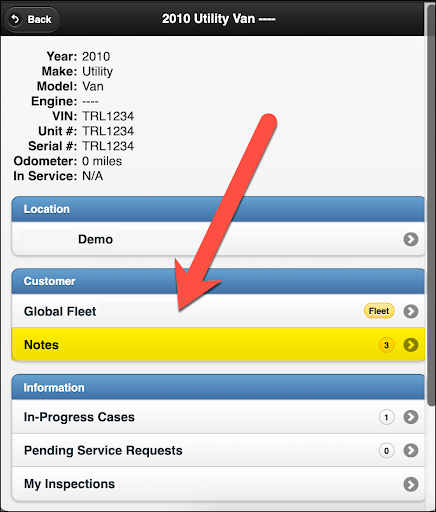 Improved Search Results for Mobile Check-In
We improved the way an asset's open cases are displayed on the Assets Search results page for Mobile Check-In users. With this release, users can check to see if there are open cases, access a specific case, or keep working on an existing one without fear of generating duplicate cases on the platform.
Service Providers who search for an asset on the Mobile Check-In tool will now see a new IN-PROGRESS CASE button. Once tapped, they will find a list of open cases with the most up-to-date information available so they can more easily make informed decisions about how to proceed.