This release focuses on improving usability for Service Providers, as well as making improvements to our Vision dashboard.
Case
Issue Fixed: Quickstop Banner Not Displaying Primary Contact Name
Previously, some Service Providers encountered cases where the Primary Contact info was not displayed in the Contact section of the Quickstop Banner.
This issue has been fixed so that when the Case Info section's Primary Contact field displays a contact name, that name will populate in the Contact section of the Quickstop Banner as expected. This will help ensure that Service Providers can communicate effectively regarding the case they're working on.
See also: Configuring the Case Quickstop Banner
Issue Fixed: Watch Icon on the Cases Screen Fails to Visually Indicate User is Watching a Case
Prior to this release, some Service Providers noticed when they clicked on the WATCH icon on the Cases screen, the icon would fail to visually indicate they had successfully begun to watch that case. In other words, the icon would remain gray instead of turning blue, as expected.
With this release, the WATCH icon in the WATCH column will present as blue for cases the user is watching. This will be true whether the user opted to watch the case from the Editing Case page or by clicking on the WATCH icon on the Cases page.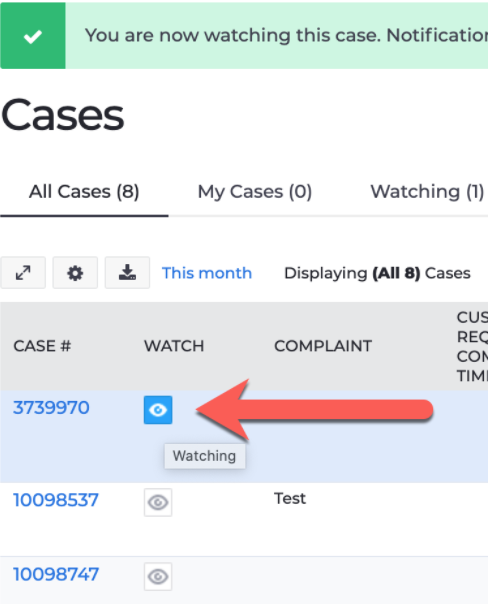 See also: Start Watching a Case
Audit Logs for Auto-Populated Mileage and Engine Hours Data
We improved the user experience for Service Providers by capturing previously-updated Mileage and Engine Hours data in audit logs generated at case creation. This will give Service Providers the confidence to know that the information they're working with is fresh and accurate.
This feature will display all updates made in the Mileage and Engine Hours fields, including those generated automatically. It will also include the source and timestamp for each update, giving the Service Provider confidence in the data's quality.
See also: Case Mileage and Engine Hours Updates
Vision
Issue Fixed: Inconsistent Select All and Unselect Toggle Behavior inVision
Previously, some Vision users encountered inconsistent toggle behavior that could impact the user experience when using the Select All and Unselect toggles found on the Edit User page under the Admin Menu.
These behavioral issues have been fixed, and the Select All and Unselect toggles will function as expected.
New Fields for Data Filtering
We added new fields from Case to enhance exception data filtering. Users will have access to a new Contact section within the expanded Case Details page containing the Primary Contact's Name, Phone, and Email along with the Driver Contact's Name, Phone, and Email.
The Asset Information section will now include the Chassis ID and the Asset Status fields. Additionally, the current Technician Assigned is available in the Service Request/Appt. Information section.


These fields can be utilized in Custom Search as well as the Filter Menu to define results, and can be displayed in both the List and Card Views.
See also: Overview of Vision