Overview
The Technician Story feature allows a technician to provide, at the operation level, time and date stamped notes of steps taken to diagnose and/or repair an asset. The individual entries are not editable but the technician can add as many records as necessary, each with a 5,000 character limit.
Technician Stories can only be seen by the Service Location and will not be viewable by the customer or an outside party. However, a user with the permissions of a Service Advisor, Service Manager, or General Manager can easily paste them into the Correction field and edit them, as needed, for viewing by the customer. This information is provided below but more details about the updates to these fields can be found in the article Complaint, Cause, and Correction.
NOTES:
Technician Stories currently only work on the

full browser version

of Case, not on Case Mobile. This functionality is being discussed and may be added in the future.

Technician Stories do not currently integrate with any Dealer Management Systems, but this functionality will be added in the near future.

This article will be updated with new information, as needed. If you would like to be notified of changes, like DMS integrations, please click the

Follow

button at the bottom of this article.
How to use
From the case, click the desired operation to open the

Edit Operation

page.

Under the

Technician Story

section, enter your notes and click

ADD

. Once added, these entries cannot be edited.

Perform steps again for multiple entries, if needed.

Click

Save & Previous

or

Save & Next

to continue.

How to copy to Correction field
The new button in the Correction field, SELECT TECH STORIES, allows a Service Advisor, Service Manager, or General Manager to populate the Correction field with current Tech Stories and edit them as necessary for viewing by the customer.
Under the Correction Description Field, click the

SELECT TECH STORIES

button.

The Correction field will be populated with all of the saved Tech Stories.

You may now edit the Tech Stories as needed, then click

SAVE CHANGES

.
NOTE:
Remember that these Tech Stories will now be viewable by the customer through this Correction field.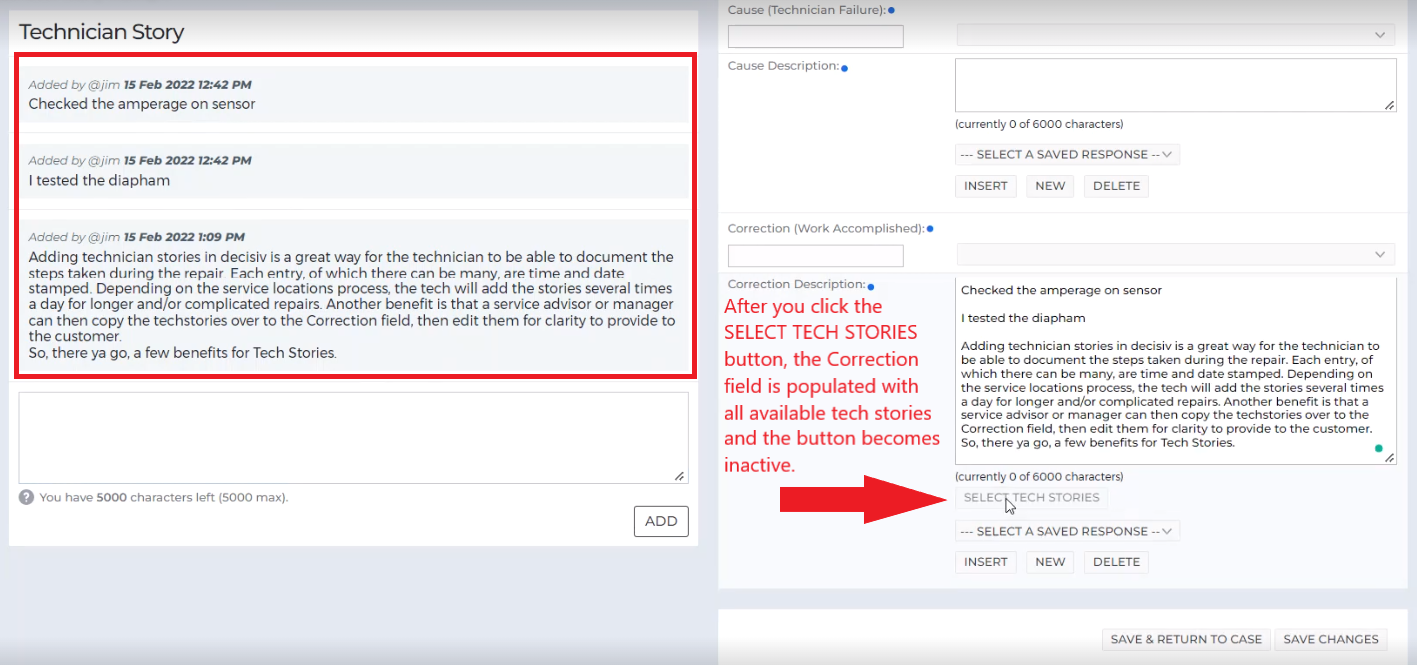 How to Enable/Disable - Admin
This feature can be enabled or disabled according to need/preference.
Go to

ADMIN>CUSTOMIZE YOUR DATABASE>LOCATION INFORMATION>FEATURES TAB

On the

ENABLE TECHNICIAN STORIES

drop-down menu, select

YES

or

NO

Click

SAVE FEATURES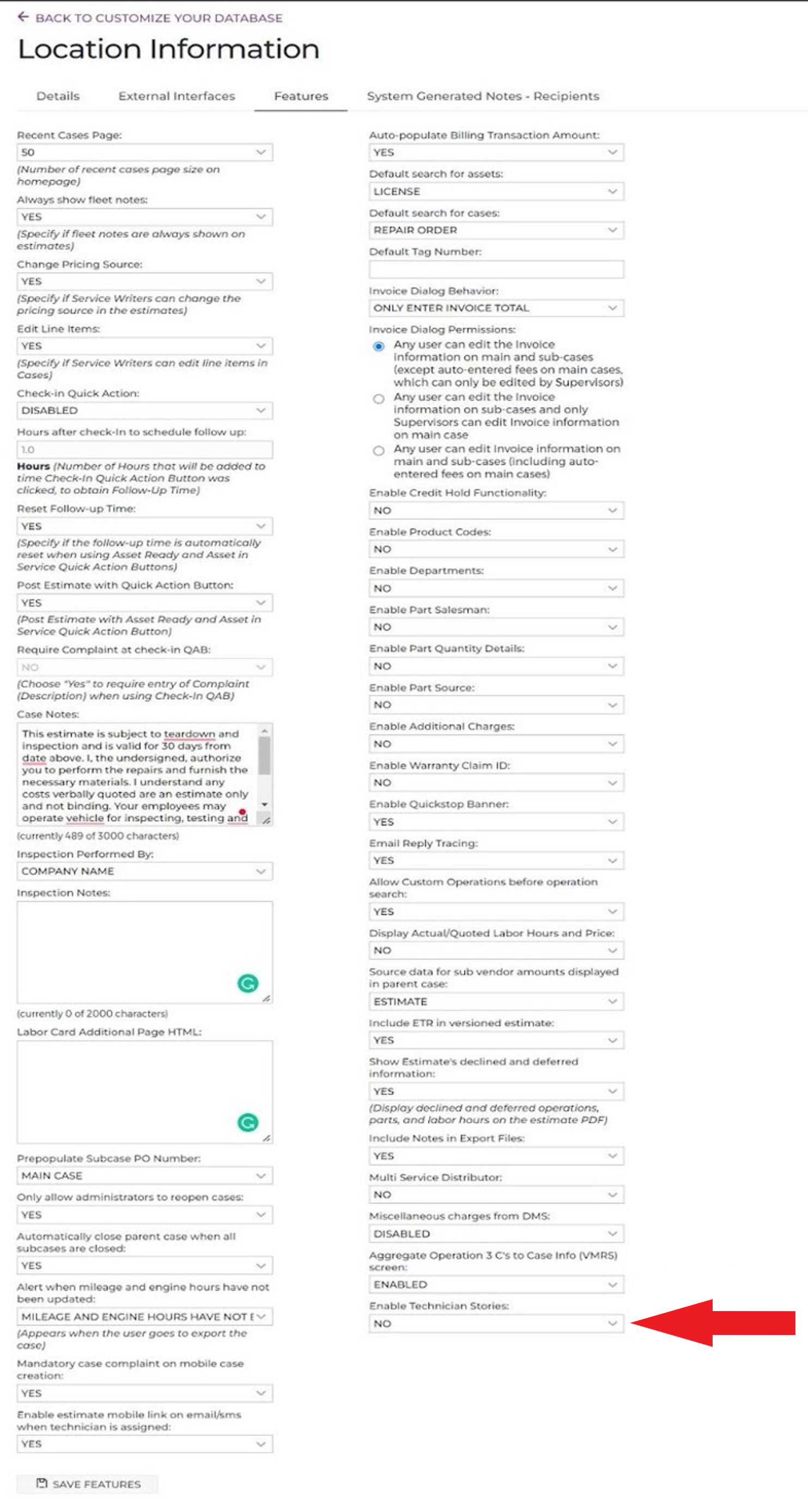 ______________________________________________________________________________
HELPFUL LINKS:
Real-time and historical Decisiv platform health data including updates, notices, and known issues can be found on this Status Page. If you have a Technical Support concern or question, please check the Status Page for answers first, then feel free to contact Support at the provided email address, if needed. To stay informed of application activity, click the SUBSCRIBE TO UPDATES button and sign up for notifications via Email, SMS, or Feed (Atom or RSS).
We strive to provide our customers with the most accurate and useful information possible, so we appreciate and welcome user feedback on any of our content. With open communication in mind, we provide the following options at the bottom of each article:


Follow individual articles to receive alerts when they are updated with new or additional information
Vote on whether you found the article helpful
Comment on the document with thoughts or questions

Thank you, and please let us know if we can do anything else to help!